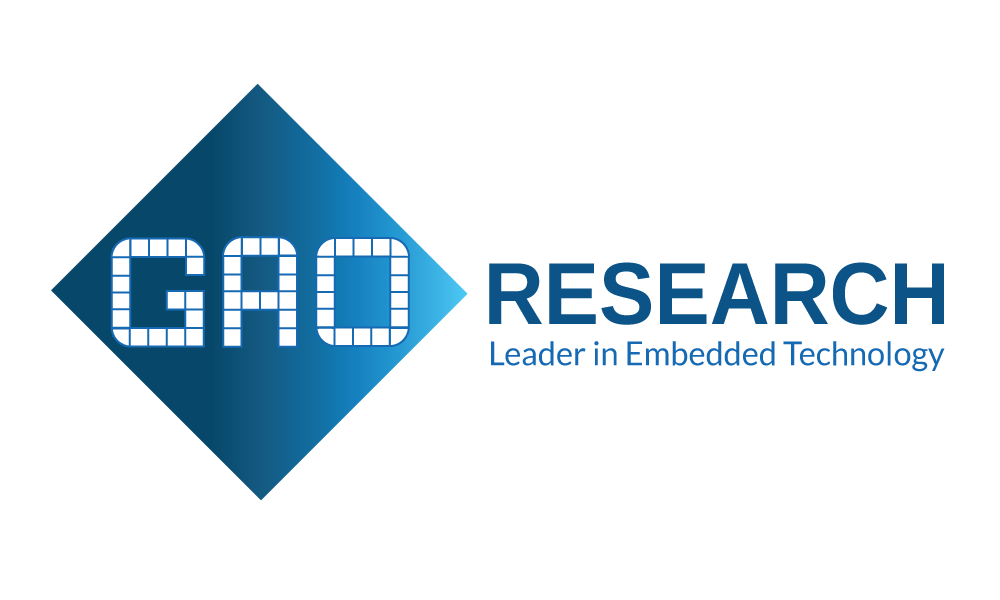 GAO Research Inc. (GAO) is a recognized international leading R & D organization in various technology fields and a leading provider of engineering software, and technologies to world-class companies.
With a modest beginning in 1992, providing consulting services in DSP algorithms and audio software. GAO strategically repositioned in 1995 to target the engineering design market.
Today, the company provides the most comprehensive and unique suite of modem, fax, telephony, speech software, VoIP, fax relay, and fax/modem/voice relay software, RFID, environmental, chemical, and mechanical designs.
Solutions & Products
Interest in software implementations of communication functions has increased over the years because they offer better cost/performance ratios than fixed function chip sets, in addition to their unmatched flexibility in functional and technological upgrades.
GAO provides the most comprehensive and unique suite of modem, fax, telephony, speech, Voice over IP (VoIP), fax relay, fax/modem/voice relay and fax/modem/voice over IP/wireless software on a wide range of DSPs and microprocessors. GAO's products have been widely reported by numerous most influential international publications in the industry.
GAO software is available in modules or packages. A module implements a function for a particular standard such as V.34 color fax, V.92 modem, G.723.1 vocoder, etc. A package contains a group of modules where each one performs a single function and they collectively perform a complete application. For example, GAO V.92 modem package integrates the V.92 function and all its fallbacks as well as protocols and control functions. The customer may license a module, one of GAO's existing packages, or a customized package. GAO's software fully complies with all ITU and other applicable standards for interoperability purposes, and is exhaustively tested before delivery to its customers. GAO performs fine-tuning on its code to meet any customer's specific requirements such MIPS/MHz and Memory utilization.
Partnering with GAO RFID Inc.
Working such its affiliated company GAO RFID Inc., we have developed RFID hardware, software and system technologies and applied them to various industries.
Our RFID Hardware
As a leading RFID company, we are known for our large selection of RFID hardware such as tags and readers that cover a large range of frequencies including Active 2.45 GHz, Gen 2 UHF 865-868 MHz, 902-928 MHz, High Frequency 13.56 MHz, and Low Frequency 125 KHz/134 KH—all designed with the leading edge in mind to offer amazing benefits.
RFID Readers
We carry a large selection of RFID readers in Active, UHF, Gen2 / EPC, LF and Semi Passive and with a variety of types including Bluetooth, USB, embedded, desktop, barcode, integrated and much more.
RFID Tags
To complement our RFID Readers we carry a large selection of RFID tags in Active, UHF, Gen2 / EPC, HF, LF and Semi Passive frequencies. Our specialty RFID tags are designed for any business need including tags that withstand high temperature, are waterproof, rugged, work with metal environments or hazardous environment, used specifically for medical applications and much, much more.
RFID Peripherals & Antennas
To enhance your RFID system, we carry a number of RFID peripherals including RFID printers, relay controllers, antennas, transmission terminals and more. RFID Peripherals and antennas can help to expand the reach of your signals, cover dead spots and integrate the RFID into machinery and more.
Our RFID Software
Our RFID software is powerful and fully customizable to your needs. The core of the software is built on our "Middleware" platform which sends control commands to RFID readers that relay RFID tag information. With this core software we can easily adapt the software to any system need, quicker than any of our competitors.
Our software can be integrated into existing systems or tailored to a specific industry with custom reports and data tracking.
Our RFID Systems
An RFID system is an integration of RFID readers, paired tags and software designed to meet the need of a business or industry. RFID systems offer a number of benefits including saving time and money, increasing productivity, securing and tracking important assets and much more.
We offer a number of core systems that can be adapted to your specific needs, in your part of the world. Whether you need to control access to your building or parking lot, need to track assets in your building, monitor your employees or contractors on a job site or track items along an assembly line we have an RFID system to help you.
Partnering with GAO Tek Inc.
Working such its affiliated company GAO Tek Inc, we have developed fiber, network, PSTN, wireless, electrical, civil, environmental, chemical, and mechanical engineering products.
Cable Instruments & Equipment
GAOTek offers a wide selection of high quality, affordable cable instruments and equipment in three categories: CATV Meters & Instruments, CCTV & Video Equipment, and Ethernet Equipment. CATV Meters & Instruments category provides products such as cable fault locators, QAM and PCM analyzers and signal level meters. CCTV & Video Equipment include color video quadprocessors and multifunctional CCTV testers. The Ethernet and Others category, carries products such as Ethernet testers and time analyzers. The products under these categories have a wide variety of applications that include telecommunications, electric utilities, test/service companies, petrochemical facilities, mining industry, digital industry, and Internet service. Our cable instruments and equipment products are also used for surveillance in areas that may need monitoring and crime prevention such as banks, casinos, airports, industrial plant area, military institutions, convenience stores, and home security.
Fiber Optic Instruments
Our Fiber Optics Instruments are offered in six categories: OTDR (optical time-domain reflectometer) and locators, splicers, meters, sources and attenuators, switches and converters, and others.
Technicians and field professionals can find an extensive collection of fiber optic tools, fiber optic testers, and fiber optic cable testers. Our fiber optic tools have extensive uses in the telecommunications and IT industries and are design to meet the needs of any job related to fiber installation, maintenance and troubleshooting. The fiber optic testers and fiber optic cable testers we offer are designed to inspect, clean, verify, certify, and troubleshoot fiber optic networks.
PSTN Testers
Our high quality and affordable PSTN devices include xDSL Testers, E1 Testers, Line Testers, and Analyzers are mainly used in the production, troubleshooting, and maintenance of xDSL networks and telecom networks.
Our select portfolio includes telecom tools, telecommunications tools, telephone test equipment, and telecommunications test equipment that are easy-to-use and well constructed to offer a smart navigation and high-resolution screen that displays results clearly.
Wireless Testers & Instruments
Our handheld wireless testing systems meet the needs of mobile devices, mobile communications, and mobile networks testing.
We offer a selection of systems and testers support different network protocols such as WCDMA, HSDPA3.6, GSM, GPRS/EDGE, and TD-SCDMA. Our digital satellite finders that are specially designed to assist quick setup of satellite dishes and LNBs, and we offer technicians and field professionals a wide range of products that assist in providing the precise focal length and focus of each camera, view specific FTA channels and assess their quality, and enable DVB-S/S2 and ABS-S signal measurement.
Electrical Testers
We offer a full portfolio of handheld electrical analyzers including spectrum analyzers, digital oscilloscopes, digital multimeters, logic analyzers, and generators.
Our products enable technicians and field professionals the best performance for a variety of electrical testing applications. Our spectrum analyzers are used in the installation, test, and maintenance of radio frequency circuitry and equipment. Digital oscilloscopes store and analyze the signal digitally rather than using analog techniques and logic analyzers are used to debug and evaluate the errors. Our electrical testers are widely used in many industries such as telecommunications, consumer electronics, healthcare, life science/medical research, security, sensing, microscopy, and gas/chemical analysis, environmental monitoring, engineering, and automotive.
Environmental Testing Instruments
Our environmental instruments include a selection of high-performance conductivity meters, durable gas detection instruments, advanced handheld ultrasonic meters, high-quality ion meters, multi-parameter water quality meters, long lasting multifunction gas detection instruments, and flexible portable gas detection instruments. The environmental testing devices are used for measuring and monitoring environmental conditions and have a wide variety of applications in many different industries. Some of the business segments where our products have applications include hydroponics, aquaculture and freshwater systems, safety systems to use to detect gas leaks, within other industries.
Applications of GAO Technologies
Some applications of GAO Technologies include: set-top boxes, multi-function printers (with such additional functions as fax and copy), video phones, wireless communications devices, feature phones, social media, defense products, software modems on PCs, Internet phones, modem pools, metering and debit/credit card terminals, civil engineering, chemical engineering, and mechanical engineering.
GAO: The Leader in Advanced Technologies
GAO leads the advanced technology market because of its comprehensive technologies, unparalleled support of a wide range of platforms and languages, broad technical expertise, world class customers, and excellent technical support and state-of-the-art testing facilities.
Comprehensive Technologies
GAO provides the most comprehensive offerings in the technologies of communications, electrical, networks, mechanical, civil and chemical in the world market place.
Wide Range of Platforms & Languages Supported
GAO software runs on a variety of microprocessors such as ARM, ST and Pentium and DSPs such as those from TI and ADI.
World Class Customers
GAO's customers include the world's leading electronics, communications and semiconductor companies from almost all of the developed countries including Australia, Canada, France, Germany, Japan, Korea, the U.K., Singapore, Switzerland and the U.S. These companies license GAO's software and embed it in their electronics products to add communication functionality. A list of customers can be provided on a confidential basis to respect the privacy of GAO's customers.
 Excellent Support
GAO is renown for its engineering expertise and excellent support services. A large and experienced staff of DSP and communications engineers provide prompt and high-quality support using the latest communication tools. Support is often provided on site.
Rigorous and Stringent Testing
GAO's testing facilities are equipped with state-of-the-art testing equipment and manned by experienced professionals.
Quality Control
GAO's products adhere to stringent quality control. Quality in GAO's software and designs are reflected in the well-structured code, detailed design documentation, rigorous testing and well-managed version control. Each project follows a well-defined design and test plan. The implementation of the plan ensures that GAO's software and designs for the project is easily integrated into the customer's system, is easily maintainable and offers an upgrade path to the next generation product of the customer.
Strong Partnerships with Leading Technology Platform Vendors
GAO has established partnerships with leading DSP and microprocessor manufacturers (Texas Instruments, Analog Devices, ST, Intel, Philips, Infineon, IDT, etc) who participate in joint development and marketing efforts. GAO continues to expand its line of engineering technologies and strengthen its partnerships with leading processor vendors.